Since the 1990's Hazelwood Construction Services Inc. has been delivering high quality civil infrastructure projects on time and on budget throughout British Columbia.  With ongoing support, training, mentorship, and opportunities for advancement, we continue to build a team of dedicated employees as strong and long-lasting as the projects that we build.
Hazelwood Construction Offers Opportunities for Growth and Advancement.
Career Opportunities
Hazelwood Construction offers many different career paths which provide long term fulfilling employment.  We hire good people for our organization, then train and develop them into professionals such as Project Managers, Estimators and onsite leadership.  We are committed to employee development and strive to promote from within.
Apprenticeships
At Hazelwood Construction, we believe in growing our own talent and what better way to do that than with apprenticeships and internal training programs! Start your career with a company that values safety, can offer job stability, and opportunities to learn from the best. We're looking for Pipe Layers, Heavy Equipment Operators and Heavy Duty Mechanics.
Training
We believe that continuous learning and development is extremely important. At Hazelwood Construction, we utilize relationships with training leaders in the construction industry to ensure our employees have access to the best and most current training opportunities.  Our training partners include The BC Construction Safety Alliance (BCCSA), Vancouver Island Construction Association (VICA), Independent Contractors and Businesses Association (ICBA) and the International Union of Operating Engineers (IUOE).  Training opportunities include, but are not limited to, Construction Project Management, Leadership, Due Diligence, WHMIS 2015, Hazard Awareness, and Road Building & Heavy Construction Foundation.
The employees at Hazelwood are the best in the business. As proven by a staff of lengthy tenure, Hazelwood provides an atmosphere of high-quality work and integrity.
Enjoy where you work. Join us to start a lifelong career!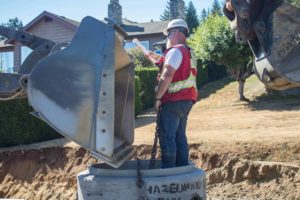 At Hazelwood Construction We Are Always Hiring Good People!